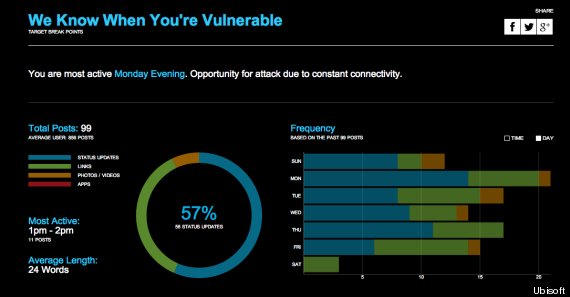 A marketing stunt for the upcoming Ubisoft game "Watch Dogs" is inadvertently allowing users to check how well they've set up their Facebook privacy settings. The campaign called "Digital Shadow", which currently is available only in the US, requests permission to access a user's account and then pulls information to build a comprehensive dossier of the user as if he or she were an assassin's target. And we do mean comprehensive. Read More

State lawmakers around the country are brandishing their budget pens to penalize public colleges and universities for what they teach, what their professors say and which organizations the schools work with. In South Carolina, lawmakers are threatening to cut funding from two public colleges where incoming first-year students were asked to read books that discuss homosexuality. After legislators criticized an unrelated symposium on gay and lesbian studies at one of the two universities, the University of South Carolina Upstate earlier this month canceled a comic performance titled "How to Be a Lesbian in 10 Days or Less." Some lawmakers have pledged to cut even more money from the second institution, the College of Charleston, after it hosted a musical based on the book students were asked to read. Read More
LITTLE ROCK, Ark. (AP) - Arkansas U.S. Senator John Boozman is in stable condition and is still recovering from unexpected heart surgery prompted by a tear in his aorta, his office said Wednesday. Read more.
Seattle Seahawks quarterback Russell Wilson announced through the team Wednesday that he is filing for divorce from his wife of two years.
Wilson married his wife Ashton in April 2012, shortly before the Seahawks selected him in the third round of the draft. Read more.
BLYTHEVILLE, Ark. (AP) - Hundreds of area fourth graders will attend a workshop next month aimed at environmental awareness.
The Arkansas Department of Environmental Quality's annual Make a Splash with Project WET Festival is set for May 8 at Blytheville High School. About 300 students from three schools are expected to attend. Read more.